Association Waters
The Association controls approximately 7 miles of the River Rother together with 3 miles of double bank fishing on the famous Royal Military Canal. Some of the stretches are available to fish on a day ticket, details can be found lower down on this page.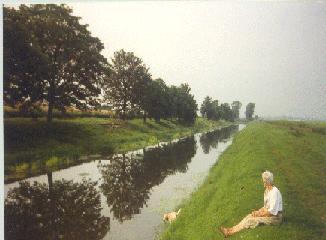 The Royal Military Canal
Stonebridge stretch in summer
The Royal Military Canal
The Association controls 3 miles of double bank fishing on one of the more productive stretches of this famous canal from Iden Lock to Appledore Dam. The most common species are Roach, Bream, Skimmers and Tench. Throughout the season some good Carp and Pike also show, only last season a Pike of 24lb 6oz and a Carp of 16lb 3oz were caught. The canal is approx. 20 metres wide with depths of 6 feet in summer dropping to 2-3 feet in winter when the levels are dropped for flood defence purposes. The canal tends to fish better either early morning or late evening, no night fishing is allowed. The dense beds of lily's are natural holding areas and cannot be ignored, fishing tight to these is a sure way of catching a good bag of fish but don't fish too light as the Tench are masters at leaving hooks on the lily stalks.
The River Rother.
The stretches of the Rother vary from small stream like water at it's upper reaches to wide fen like river lower down. Around Robertsbridge the river is narrow and reasonably shallow with a number of deeper pools which tend to hold the better fish. Some good Chub can be caught here and it is recommended you travel light as the roving approach is the best way to tackle this strech. Good catches of roach are also taken together with the odd native Brown Trout and occasional Sea Trout.

Lower down nearer Bodiam the river becomes deeper and the main species become Skimmers, Bream and the occasional Tench. It gets weedy here so a weed rake would be useful. Lots of Eels are also present up to about 2lbs as are some better Roach up to around 1lb 8ozs.

Newenden is another favoured stretch for the pleasure angler. The river here becomes even deeper and larger amounts of better sized Bream are present. Lots of Bleak can be a problem if you are trying to target the better fish and some surprises can also turn up especially good sized Eels, one of over 6lbs being caught last season by the Fishery Manager on Bream tactics.

Finally we have the Blackwall Bridge, Wittersham stretch. This is much wider with pronounced near and far ledges which tend to be the main fish holding areas. Heavily match fished at weekends by member clubs it is better if the pleasure angler can visit midweek. Good parking and easy access make this one of our most popular waters. Good Bream and Tench are the main species together with lots of Skimmers and Roach. Gudgeon are also present in good numbers but undoubtably the most popular species here is the Pike. In winter some excellent Pike fishing can be had, the best method being ledgered sea deadbaits. On the last day of last season a Pike of 30lbs 2ozs was reported.
Day Tickets
Day tickets are available for the Royal Military Canal and the River Rother at Blackwall Bridge. These can be obtained either on the bank or from The Tackle & Gun Shop, Tenterden, Kent (01580) 764851.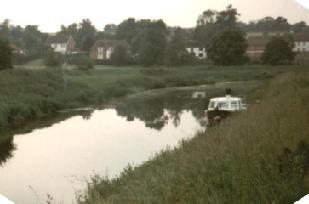 The River Rother at Newenden